14 years ago, DesignerCon (aka DCon, presented by toy-industry titans 3D Retro) debuted at the Pasadena Convention Center and quickly became the West Coast's premier convention for fans, collectors and creators of cutting-edge collectible art and vinyl toys. Last year, DCon moved to the Anaheim Convention Center, tripling in size to 350,000 square feet of vendor exhibition and programming space. Excitingly, everyone came with us and DCon continues to grow in its second year in Anaheim.
In our first year in Anaheim in 2018, over 37,000 art and design fans and families attended the show to buy world-class, cutting-edge art and related merchandise from world-class contemporary artists and brands. This year, the number of vendors and artists is jumping 20% to over 1,000 total artists and vendors, and attendance is expected to exceed 50,000.
We welcome Sony Pictures to explore the con by clicking below, and join us at the biggest DCon ever:
AT DESIGNERCON 2019
Sony Pictures' revolutionary film, "Spider-Man: Into the Spider-Verse" made waves throughout the film industry after its release at the end of 2018, culminating with the highest honor possible at the 2019 Academy Awards. But it was the film's genuine ability to honor the artists and the culture that they have created that placed the film into its position as an instant classic. Not satisfied with pulling on the heartstrings of viewers by simply injecting Stan Lee cameos and other nods to the culture – which the film also did flawlessly – "Into the Spider-Verse" acknowledged the community that made Spider-Man relevant: artists. Hiring comic book artists to consult on the film and design characters, taking note of the intricacies of graffiti culture, and working hard to create an inventive new style of animation, a worthy addition to Stan Lee's universe was born, and fans instantly embraced it.
Those fans, at each intersection of artistic creation and fandom that the film crosses over, live at DesignerCon more than any other single event there is. Being the first DCon since the debut of the film, we welcome Sony Pictures to take over a part of the event in 2019. Scroll down to see a couple of our ideas for that takeover.
ANYONE CAN WEAR THE MASK
LIMITED EDITION ENAMEL PIN COLLECTION + HUNT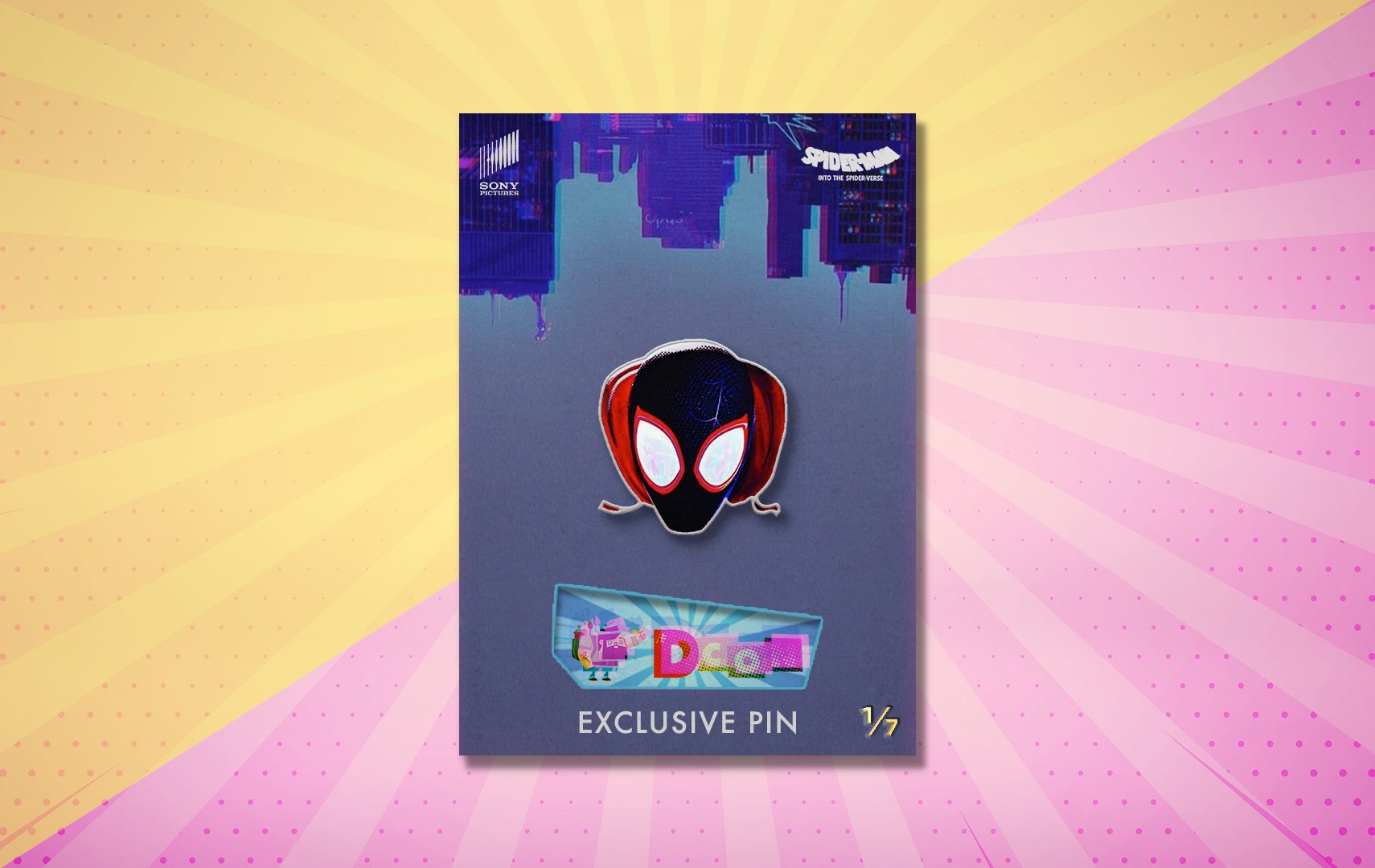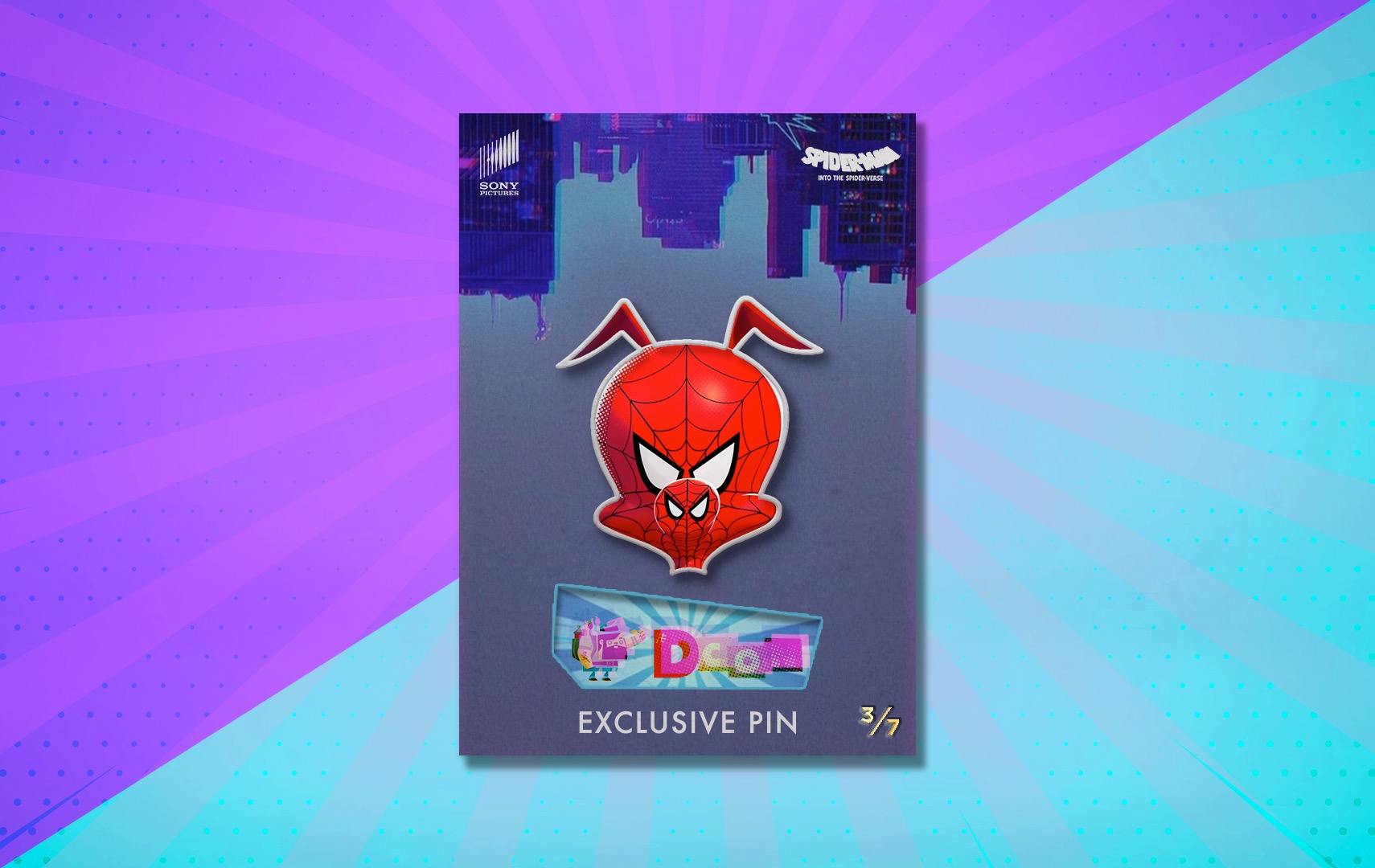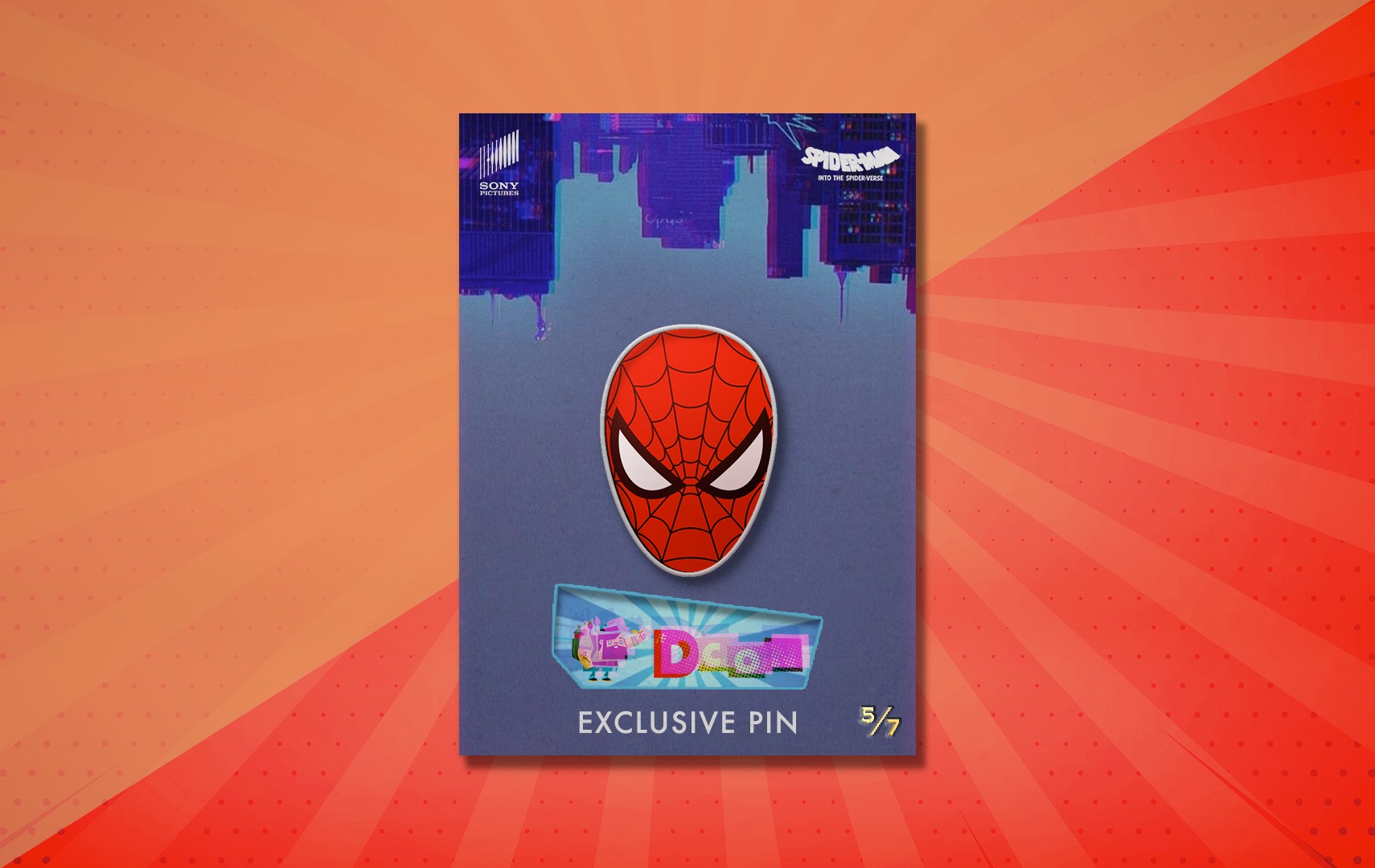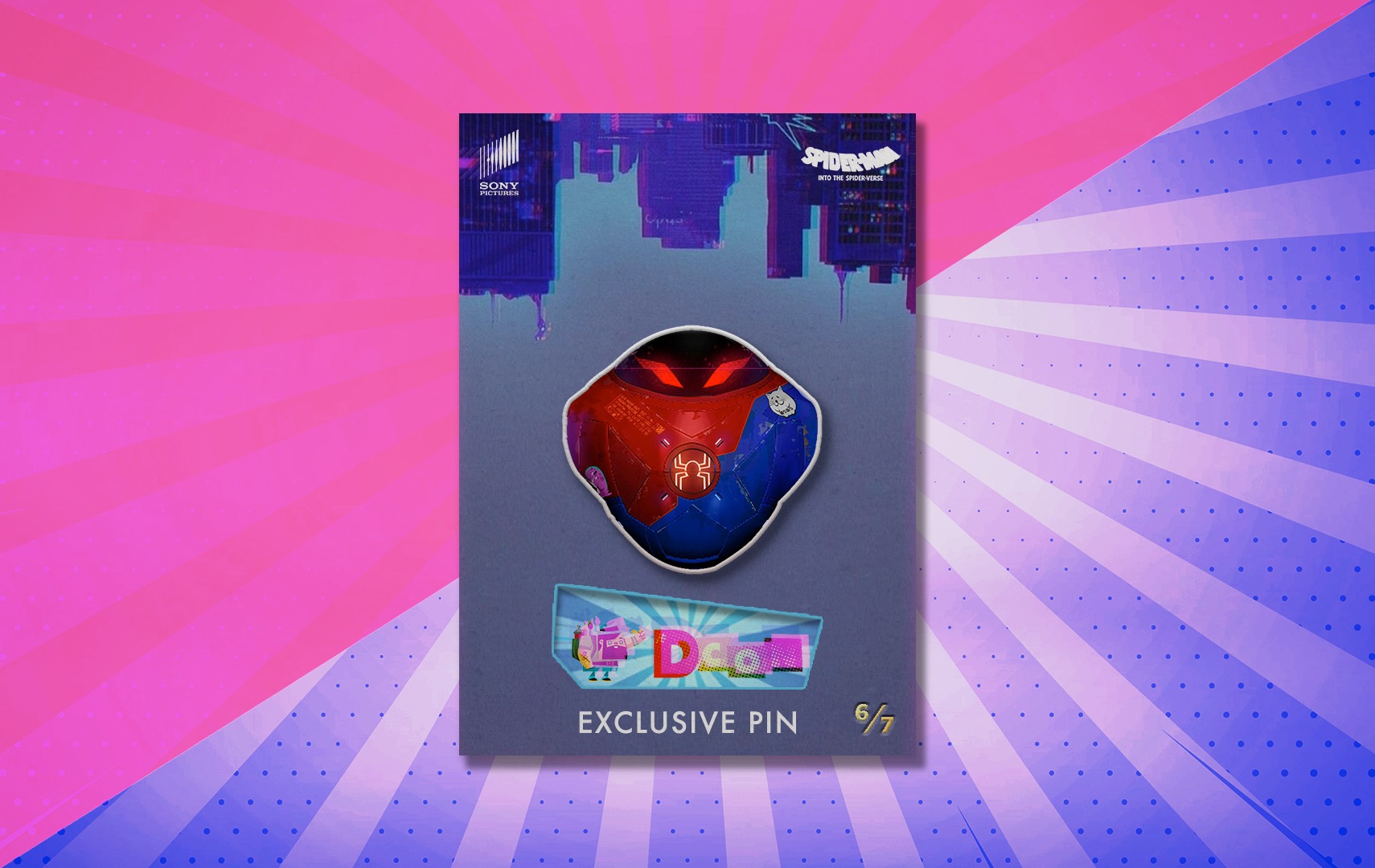 The name of the game at DesignerCon is exclusive merch drops and art releases. Our thousands of VIP ticket sales each year go largely to fans who have planned their wish lists for weeks, scouring the "DCon Exclusives" page so heavily that our website has crashed more than once. With the power of official DCon marketing behind it, we can make sure that any exclusive drop campaign is a successful one, especially with a source so rich as that of the Spider-Man universe. On top of that, we have guests who will fight to collect every type of badge at DCon. Creating a collectible series of enamel pins – arguably DCon's hottest selling product type across the event – would be a recipe for success.
With a licensed pin series inviting anyone to wear the mask on their jackets, backpacks, or hats, the entirety of DCon turns into a giant, organic, flowing marketing campaign for the film, and a gamified activation while 40-60,000 ticketholders seek out the coveted pin selection. We have some rare connections for getting these mass produced at ridiculously low costs, and a variety of scavenger-hunt-like opportunities to place them.
While one pin design may be produced for every ticket holder, the other six designs from each character can be reserved for only VIPs, those who visit the fan art show or Enamel Market, and Official After Party goers to ensure a scarcity that drums up excitement. Also, we easily work this hunt into the infrastructure of the event through program maps, aisle banners, a social media campaign, and/or an interactive, phone-based, QR code game.

Pins can be sold or given away for free, and the design can be artist-made or sourced directly from Sony Pictures.
SPIDER-MAN: INTO THE SPIDER-VERSE
FAN ART SHOW + PHOTO OPP INSTALLATION
By far our most highly photographed moment of DesignerCon 2018 was the giant T-Rex that was installed for the Jurassic Park fan art show (see video above). Fan art shows are an incredibly natural fit at DesignerCon, which is arguably the largest and most genuine event for artists of all types that happens every year. And no art show is complete these days without one or more Instagrammable moments. Something big and noticeable from across the convention floor will draw viewers in, and the photos spreading across social media will make sure no one misses it. Once they're there, an art show curated around the tens of thousands pieces of Spider-Verse fan art that has created since the film dropped – including some by artists who helped make the movie – ensnares viewers in a web of adoration that only a franchise with as much cultural significance can.
There are few curators who have done such a good job at capturing the spirit of that intense love of fan art better than Jane Dope, who is the Lead Curator of DCon fan art experiences. She's back again for 2019, and with her comes access to some of the most exciting graffiti artists, illustrators, painters, and sculptors in our corner of the world.
See images above from some of Jane Dope's most successful fan art shows, respectfully curating the best fan art from such franchises as Dungeons & Dragons, Broad City, and Jurassic Park.
Pictured installation mockup to be produced by Think Tank Productions, from this design or any other presented by Sony Pictures' team.
FALL INTO THE SPIDER-VERSE
GLITCH ART MURAL + AUGMENTED REALITY
One of the most iconic aspects of the Spider-Verse contribution to the storied Spider-Man franchise was the unrivaled approach to its special effects. Awarded with the highest possible honor of a 2019 Oscar, the methods employed in the film have been talked about in deep dive press pieces, animation forums, and YouTube tutorials since the motion pictured debuted. What was probably the most revered aspect of this animation as well was its genuine approach to comic book history.
In particular, the glitch art effects that occurred when New York City began to fall into the multiverse seem to have been pulled directly from the memory of every comic book fan on earth. Working with such artists as Jim Mahfood (who is making a billboard for DCon this year) and others who have made contributions to Spider-Man's deep history, the film also acknowledged its roots.
At DCon 2019, recreating this glitch effect with some of our artistic partners – spraypainting a mural with Rustoleum paint that glows when in contact with eletricity, animating the mural itself by bringing the glitch effect to life with our friends at VRScout, or hiring our artists with deep histories in Spider-Man art creation like Jim Mahfood or Hebru Brantley – allows fans to interact with elements of the movie in real life. Turn that into an entryway (or even AR-activated, muralized tunnel) for the fan art show mentioned above and you''ll have a highly engaged and captive audience.
DCON Newsletter = 30,000+ Followers (Vendors & Ticket Buyers)
HIJINX ARTS NEWSLETTER = 10,000+ FOLLOWERS (ART SCENE)
HIJINX MEDIA NEWSLETTER = 4,000+ FOLLOWERS (MEDIA)
THINK TANK GALLERY NEWSLETTER = 14,000+ FOLLOWERS (ART EVENT GOERS)
2019 is a very exciting year – and theme – for DCon. Every year DCon picks a subject around which its vendors and sponsors can design, and with all of the thrilling activity in the worldwide capital of entertainment related to the Sci-Fi world this year, our theme was a no-brainer: SPACE.

JOIN US IN CREATING A NEW 2019 MEMORY BY EXPLORING "SPACE" WITH US
We've already stacked DCon 2019 with some exciting collaborations, novel experiences, and milestones for international brands/artists making their way to the United States, and we keep adding new values to our guests every day. We've listed a few of 2019's highlights below, and the list keeps growing every day.
Ask us how to partner on the biggest DCON yet, and what kind of special experience we can add for our guests!
HOUSE OF BLUES DCON AFTERPARTY
The DesignerCon Official After Party is a longstanding tradition of highly collected limited edition merchandise, thrilling graffiti and art battles with partners like Secret Walls, and famous live performers in every genre of music. For 2019, DCon is taking over the historic House of Blues Anaheim and inviting all of our 21+ attendees for DCon After Dark. If you want to throw something into the DCon mix that's not suited for children, this is your chance. If you want to party with the who's who of the international design industry, this is arguably the best place you will find all year.

JOHNNY CUPCAKES EXCLUSIVE TEE DROP
Part of their yearly tradition, famed clothing designer Johnny Cupcakes has teamed up with DesignerCon again for 2019. The exclusive, limited edition Johnny Cupcake tee for the show brings a line of people year after year, and collectors from around the world area excited for 2019's design. Expect a rad installation with their smell-infused merch displays, too!
MEDICOM X DCON BE@RBRICK ARTIST SET
World famous Medicom Toys teamed up with DesignerCon in 2018 for its first ever show in the United States, bringing some of their most exciting Japanese artists and collectibles and selling out piece after piece. Happy with the long lines filling the show floor all weekend, Medicom is back, this time with a limited run of DesignerCon exclusive designs of their legendary Be@rbricks featuring a DCon-curated list of well-known artists, and even longer lines of international fans.
STEVEN HARRINGTON OFFICIAL DCON BADGES
For 2019 we are excited to have a variety of Harrington's illustrations adorning the badges that every guest wears (and collects). Ask us how to have your brand present Harrington's work alongside DCon on every badge!
CAMILLE ROSE-GARCIA SHOW PROGRAM
Los Angeles native CRG has continued to transform the contemporary art landscape. Having been displayed internationally and featured in numerous magazines including Juxtapoz, Rolling Stone, and Modern Painter, she is included in the collections of the Los Angeles County Museum as well as the San Jose Museum of Art, which held a retrospective of her work in 2007. The official DCon 2019 show program is a collector's item every year, and 2019 will present one of the most coveted annual issues yet when Camille Rose-Garcia creates her original cover art. Ask us how to present the collector's item alongside CRG and DCon.
VRSCOUT DESIGNERCON TECH ZONE
Created originally for DCon 2018 and presented by partners as revered as the Los Angeles County Museum of Art (LACMA), the Tech Zone is coming back in force for 2019. VRScout's Editor-at-Large, Forbes Contributor, and Spatial Reality curator Jesse Damiani curates the show alongside Think Tank Gallery and VRScout provides media support to a litany of artists and sponsors. The DCon Tech Zone is where art and technology get cozy and conspire to blow your mind. From virtual reality installations to augmented reality apps to 3D sculpts of digital work – and all types of fun in between – this space showcases the work being created at the furthest edge of digital expression.
JIM MAHFOOD POSTER + BILLBOARDS
Jam Mahfood has worked for every major comic book company in the world, and has a client list that stretches across gigantic companies like Playboy, Disney, Armani, Nissan, NBC, Sony, Comedy Central, TIGI, MTV, Pabst Blue Ribbon, Cartoon Network, Star Wars Gamer, Hollywood Records, Mad Magazine, and many more. We are thrilled to invite Mahfood to create the official DCon 2019 poster and billboard designs that will live in the fan-favorite Fairfax streetwear shopping district and other coveted spots in LA for months leading up to the show. Ask us how to present Mahfood's work alongside DesignerCon on these high exposure billboard locations.
DESIGNERCON "SNEAKERHEAD ALLEY"
Sneakerheads and streetwear fanatics have always crossed over with comic book and designer toy audiences in an intimate way. Collectors are collectors, and one would be hard pressed to find a more excited community than those of designer toys and limited release sneakers. To recognize this massive part of our fanbase, DCon curated an unofficial area of streetwear and sneaker brands for our move to Anaheim last year, to great success. For 2019, we invite like-minded companies to create an official paradise for sneaker and streetwear fans presented alongside Angelus Leather Paints, The Hundreds, and many more. (Official section title pending)
+ MORE EXPERIENCES & PARTNERSHIPS TO BE ANNOUNCED
DesignerCon brings the best and brightest stars of the designer toy and fine art worlds together under one roof, from individual artists with a burgeoning fanbase to major brands and companies whose products are collected all over the world.
Continuing the tradition of ComicCon's Artist Alley, DesignerCon thrives on connecting creators to their fans.

Some of the confirmed talent for 2019 includes:
DCon is bringing a crowd.
And so is Anaheim.
The Anaheim Convention Center first became a meetings and conventions destination in 1967, and the original construction consisted of the domed Arena (which stands on Katella Avenue), an Exhibit Hall, and Meeting Space. Since those early days, the Anaheim Convention Center has completed a total of six expansions plus several cosmetic renovations to update the Convention Center. Five of the major expansions provided additional exhibit hall and meeting room space. While the fifth expansion, completed in January 2000, resulted in a complete transformation of the Anaheim Convention Center and surrounding campus, the most recent expansion, completed in January 2013, was the Grand Plaza: 100,000 square feet of exterior space offering meeting planners the opportunity for large outdoor gatherings including alfresco dining, concerts, receptions, exhibitions, meetings and more.
It's right next to Disneyland and nearby multiple airports with shuttles directly to its front doors (including LAX). It's one of the West Coast's most accessible locations for an international audience of the magnitude DCon brings.
DesignerCon lives in the creative capitol of the world, and is the most genuine and widest slice of it that you can find. While other conventions might boast larger numbers and heavier corporate attention, DCon connects to its artists – and therefore their fans – in a way that is realer than any other. When you partner with DCon, you buy into a vital creative community and speak directly to an audience of influencers tuned into the vanguard of illustrator, animator, and collector culture.
And since this event takes place at the brink of the holiday season, our impact and consumer spend opportunity is off the charts.

Our only rule?
You must CREATE ARTWORK AT DCON, OR PROVIDE SOMETHING THAT DIRECTLY INSPIRES OR SUPPORTS OUR ARTISTS.

No matter how you'd like to see your brand presented, we're open to any and all ideas and ready to get creative.
The most immersive and integrated sponsorship opportunity we have at DesignerCon 2019 is with our partners at PowerCore. Ask us how to turn any single aspects – as many of them as you want – into a branded activation and opportunity to share your messaging. Gamify the entirety of DCon with your product or service.
Every single guest, artist, sponsor, and VIP in the whole Anaheim Convention Center – 50,000+ over the three days – will need to access the internet to share their selfies with hard-to-get designer items, access their business emails for networking, and even make sales with their cash registers.

You can literally name the wifi network for the entire Anaheim Convention Center after your company or slogan.
Ask us how.
Our team has built some wild art installations for its brand partners over the years. Be the next to captivate audiences in a memorable way. Hire our team to produce or bring your own.
Sometimes you need more than a simple photo opportunity. Our team understands that an interactive experience is the single best way to leave an impression. See how we've done it before.
For the first time, DCon is seeking an Aisle Sponsor. Tens of thousands of guests are looking for their favorite booths as they walk the floor, and your art pieces in the sky can lead the way.
We have a few different Lounges around the convention floor, including VIP areas, recharging and relaxation stations, panelist and talent green rooms, and more. Give our guests a break.
The Anaheim Convention Center has one of Southern Californias most iconic entryways. They're letting us deck it out with artwork, and we'd love for you to help us show off to the whole city.
Each year, DCon takes out 4 billboards in highly visible locations in Los Angeles and surrounding areas. For our biggest event yet, we want to invite a couple big names up there with us.
Renowned graffiti photog and videographer Birdman has been creating some great content for DCon for years. The video reaches a huge audience and we invite you to join us in presenting it.
Join us in the madness, and perhaps on our radio and TV commercials, too (Cartoon Network, etc).
We have two stages at DCon – the main panel stage during all three days of the convention, and the music stage during the House of Blues After Party. We welcome you to present and event co-curate DesignerCon's most exciting talent to share lessons to the realest illustration, animation, and sculpting fans in the world for the former. We're making it into one big art piece.
And for the House of Blues? It's going to be big.
There are a variety of places in the con that invite smart partnerships with clever and creative brands. Lobby design, ticketing stations, tons of line queue areas, and wayfinding signage are all places that warrant tens of thousands of daily interactions, and each is an opportunity to create a work of art.
One of DesignerCon's most exciting and open-ended areas is the "Tech Zone," presented alongside media partner VRScout. Think VR & AR, 3D printing/sculpting, software demos, charging stations, etc. Put your product in guests' hands, or transform it with the most cutting edge media in art history.
•••
We seek a variety of creative partners for many corners of DesignerCon — including on-site activations and promotional packages. We also work to build out customized opportunities to suit each partner we work with. In addition, if you know off the bat how you're looking to be involved, we offer more traditional and straightforward brand partnerships.
•••
OTHER ADVERTISING OPPORTUNITIES INCLUDE:
• Ads on Tickets (print and online)
•Badge Sponsorship (logos on lanyard badges given to each guest)
• Map Sponsorship (online & printed map inclusion with logos; logo on wayfinding signs on walls + floor)
• Beverage Sponsorships
• Snack Sponsorships
•Media Sponsorships
•Ads in Booklets & Other Programs
3DRetro was founded in 2003 by Ben Goretsky and his passion for collectible toys. 3DRetro supplies the best and hardest to find collectible figures from around the world. 3DRetro also produces collectible vinyl figures with artists from around the world including such names as Gary Baseman, Touma, Nathan Ota, Jeremy Fish, COOP, Brandi Milne and so many more. In 2013 3DRetro opened its retail location in Glendale, CA making it a hot spot for collectors. The store hosts multiple release parties throughout the year and features signings with artists from around the world.
Hijinx Arts is a Los Angeles based PR & Management firm that specializes in promoting artists, galleries and special events. The team offers a wide array of scalable, fully-integrated public relations and marketing services to work hand in hand with their clients.
Think Tank Gallery is an alternative arts space and immersive production company founded in Downtown Los Angeles in 2010. They build themed experiences around the country, and hide content in every corner. From building a coffee house in a warehouse with patio performances, to running a skate park in a gallery streaming video feeds through the ramps, to running a month of events in a giant cake wonderland with Cirque du Soleil, Think Tank Gallery nails the branding without upsetting the vibe. They create meaningful – not mindless – entertainment.